Why Choose Our Mercedes S-Class

Limousine Service​
Luxurious, high-end vehicles
All of our limousines are top-of-the-line Mercedes Benz S-Class models, the epitome of classic luxury and style. Our vehicles are meticulously maintained to ensure that they look and feel like new, giving you a comfortable, luxurious experience every time.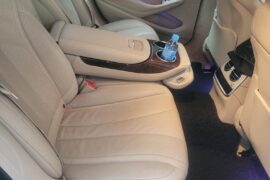 Experienced drivers
Our experienced chauffeurs are friendly and professional. They understand the importance of punctuality and safety, so you can relax knowing that you're in good hands. We also offer multilingual drivers for international travelers or those with language barriers.
Flexible services
Whether it is a corporate transfer or a leisurely city tour, we offer a range of services to suit your needs – from Changi airport transfer to Singapore Malaysia Limo Transfers and everything in between. Our flexible packages are tailored to fit your individual requirements and budget.
Convenience with 24/7 Concierge Service
We offer convenient pickup and drop-off points at any location within Singapore as well as dedicated 24/7 Concierge service to offer you with the best customer service. Our team of experts are available around the clock to provide any assistance, answer any questions you may have, and ensure that your experience with us is seamless and stress-free.
Comfort & Safety
Enjoy the convenience of travelling without compromising on comfort – we make sure that our limousines provide the ultimate safe and pleasant ride during your travels with us. All of our vehicles come equipped with modern amenities such as air conditioning, adjustable seats and audio entertainment options - making it easier for you to relax during long journeys!
On-demand Booking
Our streamlined booking system makes it easy for you to get your limo service at the click of a button. Simply select the desired pick-up and drop-off points, choose your package, and we'll take care of the rest!
Affordable Luxury
You deserve an effortless luxury experience without having to pay exorbitant fees – which is why Trident Limo offers competitive rates for all its services so that everyone can enjoy affordable luxury travel in Singapore! With us, you get quality service at an unbeatable price point – no matter if it's for business or pleasure!
Advance Booking
If you prefer to plan your limo ride ahead of time, simply fill out our advance booking form and we can arrange a private transfer for you according to your schedule.